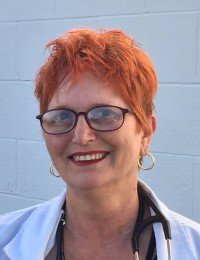 Dr. Ramona Turner was born in Missouri, but was raised in Iowa.  Dr. Turner found that she had a passion for all animals at a young age.  This passion made her work hard to become a Veterinarian.  She attended The University of Chicago to earn her Bachelor Degree. Then, she attended The Iowa State University College of Veterinary Medicine, where she received her Doctor of Veterinary Medicine Degree in 1982. She completed 2 externships at All Cats Hospital in Houston, Texas, where she was mentored by Dr. Cynthia Rigoni, who remains a friend and colleague to this day.  After graduation from Veterinary College, Dr. Turner wanted to work in a feline exclusive practice. At that time there were no more than a few feline practices across the United States.  Dr. Turner found her perfect fit with the Fresno Cat Hospital which had just been founded by Dr. Arthur Barney.
Once settled in Fresno, Dr. Turner started a family.  She has a daughter and son.  When they were younger Dr. Turner would bring them to work with her where they were raised around animals. Many of our clients have watched them grow up and have seen them in the office when they were young.  Both kids were quite active in sports. Dr. Turner became a stellar soccer mom, who greatly enjoyed being a part of their achievements.
Dr. Turner loves Tennis both as a player and spectator of professional events.  When she is not in the office caring for patients you can find her on the courts.